Sleeper trains truly welcome you to a calm, comfortable, elegant atmosphere where all senses are cared for to guarantee a pleasant experience.
Sleeper trains often display another atmosphere than the one the common traveller is used to. Since the passenger is expected to stay multiple nights and days in the train, the services on boards are made to accommodate and entertain guests to make the trip more than just pleasant, to unforgettable. The services, accommodations, and details are precisely designed to transport the passengers back in time to the 1930s where train travel were luxurious experiences, with service crafted to please every desire.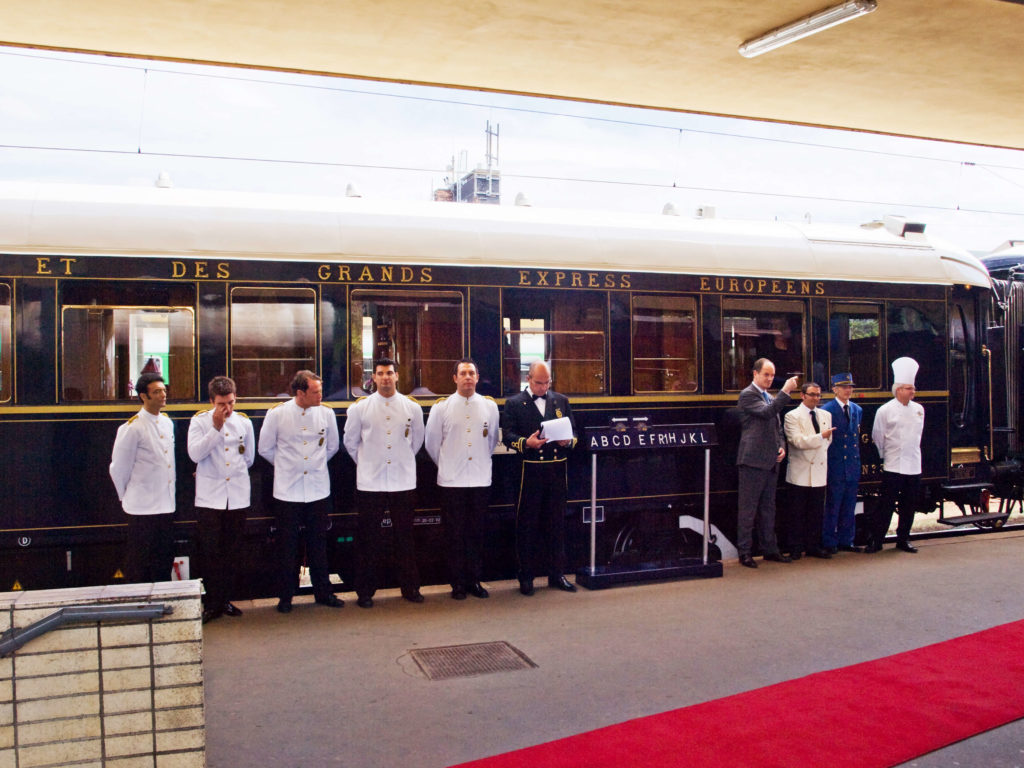 Your adventure starts from the moment your train arrives, with its red carpet and staff in immaculate uniforms welcoming you into the train and accompanying you to your reserved seats or cabins. To make sure that your every need is catered, every passenger has their own steward/butler who will serve you your meals, drinks and call the train manager for you if you have any queries.

Meals on board, from breakfast to dinner are all created to complete the atmosphere and the theme of luxury throughout the day. The Head Chef and French chefs on board freshly prepare each meal in the train kitchens with great attention and details with the finest ingredients of the wine to enhance its taste. The table is dressed as in another time, with every detail chosen to make the meal both a pleasure for taste and for the eyes. With fine linen, crystal glasses, white clothes, and French silverware, the meal is served to make the experience as luxurious as possible with great care and attention from your personal butler and the Dining car's staff. To celebrate special events, you can ask for additional champagne, caviar and flowers bouquet or corsage to your personal steward. To create a back in time atmosphere, ladies and gentleman are encouraged to dress especially well for meals, such as cocktail dresses, suits, and ties to appreciate a meal on their reserved table in the soft muted light of the dining cars and soft piano music by the train's resident pianist.

During the afternoon, tea and pastries are served in the passengers' cabins by their steward, or they can lounge in the bar car where they can treat themselves to exclusive, unique cocktails, aperitifs and liqueurs with other guests. Many sleeper trains have their own unique cocktails made by barmen who keep their recipe secret. There you can appreciate local entertainment in the refined, discreet and friendly atmosphere of the 20s-30s with piano in the background.


After dinner, passengers can choose to head back to their rooms for some personal time. The rooms range from twin compartments with 2 beds, sofa, wash basin, to cabin suites with more personal space, a banquette sofa, a small table, and two beds. To travel at the height of luxury, sleeper trains can propose grand suites (sometimes called presidential suites) with a bedroom, a living area for private dining, a sofa and unlimited champagne, with their own private bathroom equipped with a shower, toilet and all the necessary designed toiletries to be comfortable.

Sleeper trains truly welcome you to a calm, comfortable, elegant atmosphere where all senses are cared for to guarantee a pleasant experience. Luxury and glamour, impeccable service, time preserved cars from the 1920s-30s with their own unique personalities and decorations truly transport the passenger to another time and lifestyle. As you travel through beautiful sceneries, enjoy the inviting and opulent atmosphere of the train, to meet new people. The beautiful sceneries can be seen from open-decked Observation Carriages and from the passengers' room window.

After a good night of sleep in your private cabin, breakfast composed of freshly baked croissants, coffee, tea, juice, and fruits is delivered to your room by your private steward. And for the early risers, the observation car is opened early in the morning to appreciate the sunrise on beautiful sceneries with tea or coffee.